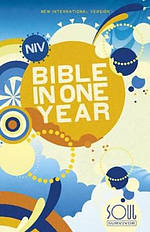 I went to a great Q&A discussing the vision of Soul Survivor and it was very honest and frank. Mike's hope and passion is for the lost and SS gives young people a place to experience God, bring friends, have great fun and hear the gospel. They have done this pretty well and successfully down the years. He is more challenged by discipleship and admits they have done less well on this.
This year was back to basics with very good talks given by Andy Croft of Jesus in the four gospels (Servant in Mark, King in Matthew, Humanity in Luke and God in John) and also the launch of the
Soul Survivor Bible in one year initiative
. Happily they sold 3.5K copies just in the week we were there and I managed to sell 22 to our teenagers who have all resolved to give it go. Even if they only do a month it may be one more than they are doing at the moment.
We are starting on September 1st so why not join us.