25 years ago a short Greek man from Chorleywood shared the gospel with me in a church in Newcastle and I became a follower of Jesus. I was sitting on the top right hand balcony of Jesmond Parish Church.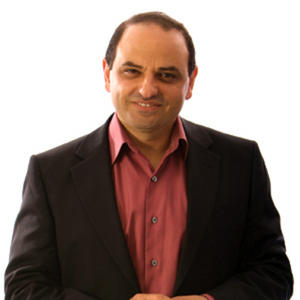 When the call to decision came, I was far too chicken to go forward but I prayed anyway. As it turned out, I went again in the evening and did go forward then. I had absolutely no Christian friends at Uni and the best I could muster in my circle was one pal who had been to church once. My gang was not a terribly holy bunch :) I had stopped church-going (for that is what it was) shortly after being confirmed by the Bishop of Warwick in 1981. This was now 1989 and my sister had a short time before bemused me by telling me she had become 'a born-again Christian' on some course she called 'Alpha'.
I remember saying to my friend 'If I wanted to go to church (not that I do...) where might I go?' He suggested JPC and so I took myself along secretly without telling anyone. J. John came along a few weeks later to speak at a Sunday service and, as they say, the rest is history. I was, just like you dear reader, immediately sanctified and gave myself fully over to godly-living and life became perfect from that moment onwards......Of course it didn't- but that's another story for another day.
A few weeks ago John was doing a mission in Hammersmith and I bumped into him in a coffee shop. A few days later, he surprised me with an email saying he'd really love to come and speak at our little church plant. So he's coming on the 19th @ 10am which is all rather fun and exciting.
If you've never come across J. John you can check out the short film on
the Philo Trust website
. Do pray for him and for us as we reach out to our friends and neighbours and invite them to come and hear the gospel.