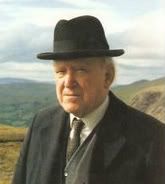 I have long had an admiration for Dr Lloyd-Jones who many consider to be the greatest preacher of the 20th Century. Tim Keller quotes him often in his sermons and R T Kendall considers his '
Sermon on the Mount
the book that changed his life. A couple of years ago I met a splendid fellow Ray Gaydon who is MLJ mad and blessed me with his ancient reel to reel collection of his sermons and a set of tapes on Ephesians 6. Imagine my joy upon finding in the biography that it was Ray's pulpit from which MLJ preached his final sermon (page 737). Finally
this post
prompted me to my 2008 challenge which I have just completed.
Reading the two volume story of his life in one year.
So that's the background to the recommendation of a challenge you may like to take on in 2009. My advice would be take a volume on holiday with you-once you have read one you will be looking forward to your next holiday opportunity to tuck into volume 2.
I took
Volume one 'The First 40 Years'
on holiday with me to France and read it in five days. I could not put it down. It tells the story of his childhood, his work with Lord Horder as a doctor and his call to Aberavon and the subsequent revival that ensued. What is most mesmerizing is the story of his preaching. This is an account of a man who preached and did so with such power, conviction and passion that his words are still having an impact to this day. He understood the nature of the gospel and the need for the new birth in a way few ever have.
The second volume '
The Fight for Faith
' was just as compulsive and tells the story of MLJ at Westminster Chapel and his incredible influence over evangelicalism in Britain and the world in the latter part of the 20th Century. Here is a confession. I arrived at theological college terribly ignorant of church history and culture. I had been in the same church for over a decade and wasn't even sure I knew that I was in fact evangelical (by this I mean I would not have been able to give it a label). Oxford then opened up to me a whole world of doctrinal debate, division, controversy and confusion from which I had been blissfully ignorant. Perhaps with hindsight that was a good thing. Sadly, I am shielded from such things no more. The section on the birth to the Charismatic movement in the '60's was compelling as is LJ's reaction to it. This second volume gives you a potted history of things and why they are the way they are and it is masterful. It informs on so many of our current debates in a lucid and fascinating way and it is clear that very few involved todays schismatic issues have bothered to learn from the lessons of the past.
There are so many things I have taken away that they are too numerous to mention but here are six.
1. The need of preaching
2. The need for regeneration
3. The need to pursue sound doctrine and teach it to others
4. The need to preach the gospel from all of scripture
5. The need to read the
Puritans
6. The need for extraordinary courage,energy and fortitude if you are to do the first 5.
These two volumes have left me a changed man.
MLJ
(listen to him here) complained that preachers do not read enough and most shy away from what he called 'big books'. These are 'big books' in every sense of the word and mine are now covered in annotations and markings-1600 pages of them. If you are a preacher you need to read this story (most, as MLJ predicted, won't I fear) but I am in no doubt that if you listen to the good Doctor and let him be your teacher he will renew your soul and you will be transformed.
This at least is my prayer for you.