A friend at Church was much enthused on Sunday evening upon the discovery of a daily devotional he had just bought and asked me if I had heard of it. I am not sure if treasure is less valuable when you discover that others have got to it before you or more? Anyway, I told my friend that I had indeed heard of
My utmost for his highest
and that it has been one of my great sources of wisdom and encouragement down the years.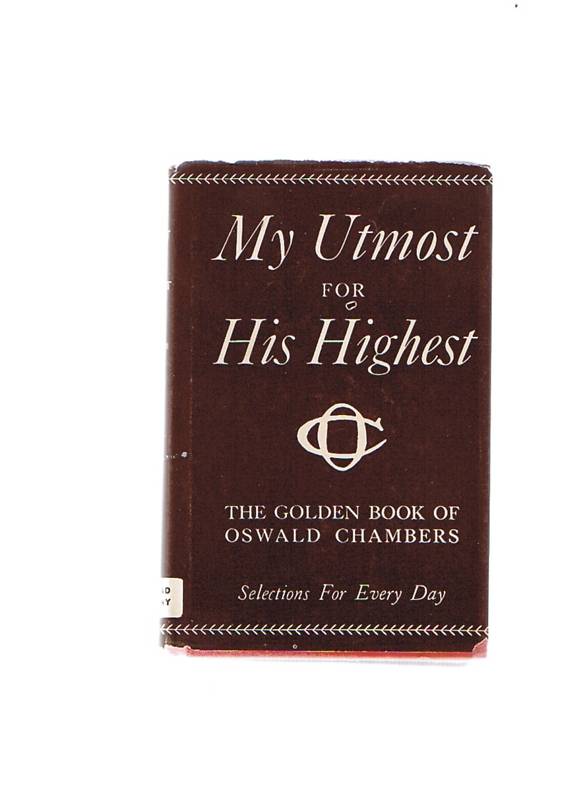 A few years ago, I read the wonderful
Indelible ink
in which 22 Christian leaders were asked to list the books that have changed their lives. In the exhaustive appendix at the back, I was struck by the amount of times Oswald Chambers appeared which is a testimony to his deep wisdom and the holy influence he has had on so many. If you don't own a copy you should have one by your beside and I promise it will become a life-long companion. Here is an entry from June 19th.
"......
To-day we have substituted credal belief for personal belief, and that is why so many are devoted to causes and so few devoted to Jesus Christ. People do not want to be devoted to Jesus, but only to the cause He started. Jesus Christ is a source of deep offence to the educated mind of to-day that does not want Him in any other way than as a Comrade. Our Lord's first obedience was to the will of His Father, not to the needs of men; the saving of men was the natural outcome of His obedience to the Father. If I am devoted to the cause of humanity only, I will soon be exhausted and come to the place where my love will falter; but if I love Jesus Christ personally and passionately, I can serve humanity though men treat me as a door-mat. The secret of a disciple's life is devotion to Jesus Christ, and the characteristic of the life is its unobtrusiveness. It is like a corn of wheat, which falls into the ground and dies, but presently it will spring up and alter the whole landscape (John 12:24)."